The future is automation and artificial intelligence. Top platforms like Facebook, Youtube, Instagram etc extensively use artificial intelligence and automation in their platforms.
Just imagine the hassle you have to go through to find a great content writer. You have to create his personal account on your website so he can see what's going on your website what kind of plugins or services you use to manage your business website.
This is a kind of information that a writer does not need to know and you don't have to share with anyone. But there is no way to do this.
Now imagine a platform where you create your account, link your single or multiple websites and Seo optimized content with beautiful images, inbound and outbound links get published on your website automatically without the writer even knowing your domain name or even being able to log in your website.
Isn't that cool?
So this is what Organicwriters.com can do for you. And this is just a glimpse into this amazing new platform. Below I am going to explain in detail what is organic writers and why you should buy content through this website.
Organi Writers is for you if you are a business owner who runs single or multiple websites. They are on different niches and you need a writer who is good in exactly that niche. Now you are also very busy already in managing different aspects of your business.
Organic writers let you link your multiple multiple websites with it, Now you can smoothly order content and get it published on your websites automatically. Before the unique content is published on your website you can check, approve or disapprove before its published on your website.
So by doing this simply put your websites on auto and watch them grow organically over the period of time.
Now let me explain how can you order content in organic writers and how the dashboard looks like.
 The next step is to add funds to your account. You can add a minimum 5 USD in your account.
 Now you need to link your website/websites with organic writers platform. To do that first you need to add two plugins on your WordPress website.
After thats completed then your websites are ready to communicate with organic writers.
The next step is to add your websites in organic writers where you want the content to be published. To do that click Linked Websites Then Add new. There provide your WordPress domain URL and author account login details. Once the details are added you are ready to order content.
The next step is to order content. To order click the order articles. You will see the below screen. Provide the required details as shown on the screen and post the project. Now your project is posted and it's visible to 1000s of talented and professional writers. A writer will accept your article and deliver it within the given time frame.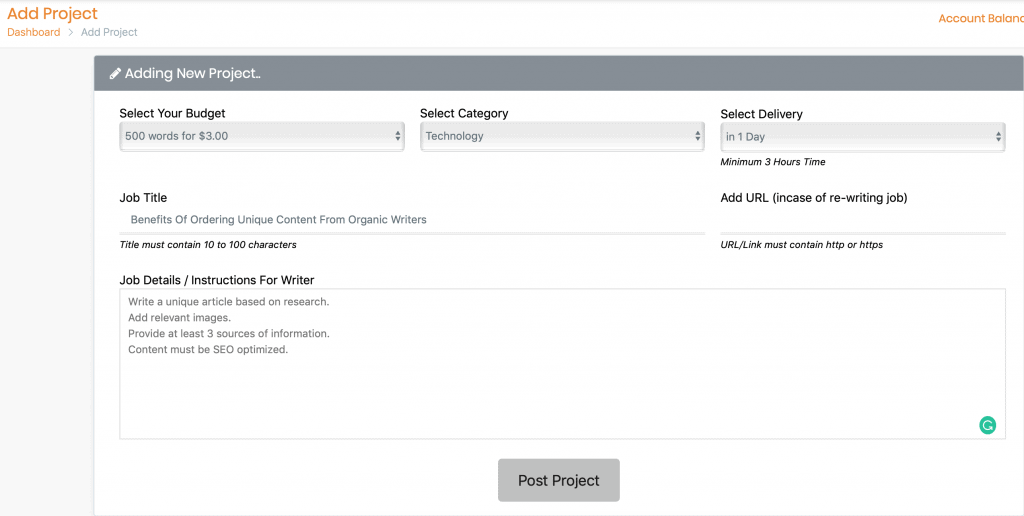 Now a professional writer will accept your project and start writing. When he delivers, you can the article and select any of your websites where you want to publish the article.
Once article is accepted now you can either download the text or publish the article directly on any of your linked websites.
If you want to directly publish the article on your website then select directly publish. Organic writers will automatically fetch the categories from the selected domain so you can select the relevant category and publish the content there. When the content is published it automatically transfers the meta-information to that article on your website also.
Now your fully SEO optimized unique article is published on your website.